Hookah travel VYRO ONE V2
The high-end transportable Hookah , made in Germany
---
Vyro, the new brand of Hookah by AEON will not remain unknown for long. After more than a year of development, the brand VYRO by AEON proposes its first model of Hookah for travel, ultra compact and easily transportable. With only 16 cm high, the Hookah Vyro One is currently among the most small chichas present on the market. Here it is now in a new and improved version.
A perfectly stable Hookah
---
With its dimensions and totally ergonomic shape, the Vyro One can be slipped into any bag. This Hookah is truly designed for nomadic smokers. In order to ensure perfect stability and in particular to prevent the Hookah from tipping over when you connect your Hose, the Hookah Vyro One has a weighted base. Contrary to a classic Hookah , the Vyro One has its Hose connector and its purge valve on its lower part in order to avoid bending of the Hose and the risk of falling.
High quality materials & finishes
---
Nothing was left to chance on the design of this GermanHookah and a point of honour was put on the quality of the materials used and the finishes. A body in stainless steel and real carbon gives it, in addition to a modern design, a long-lasting resistance. On the technical side, a plunger with a diffuser with numerous holes allows a smooth and fluid draft while offering a perfectly silent session. Ideal when you smoke on the beach, on holiday without disturbing your neighbours... The Hookah seals toroids ensure a perfect seal.
The Hookah Vyro One is delivered without equipment so that you have the choice of a complete customization. Hose silicone, Bowl or Heat Management Device Kaloud, find a wide range ofHookah Accessories on our online shop.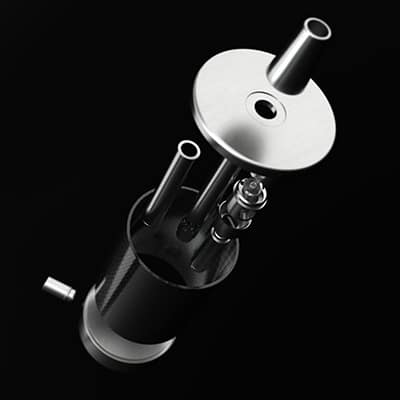 Technical data
---
Height: 16 cm
Stainless Steel & High Quality Carbon Body
Plunger with diffuser
Purge valve integrated at the base of the hookah
Including seal from Bowl
Connector for Hose made of silicone
User manual and carrying case included
Delivered without Hose or Bowl
personalize your Hookah with...