All about the electric lighter
Electric lighter: the economical and ECOLOGICAL flameless lighter
---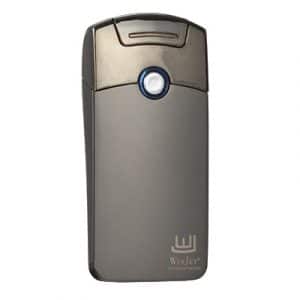 In recent years, a new lighter has become a sensation among smokers: the electric lighter. Inspired by the functioning of the taser, this type of lighter without gas or petrol has an " electric arc " ignition technology.
Also known as " electric arc lighter ", "plasma lighter" or "usb electric lighter", this new generation lighter has many advantages. Economical, it is simply recharged by USB and respects the environment. It is also easy to use, lights up quickly and lights cigarettes or incense in all weather conditions.
Surprisingly, the electric arc lighter has no flame. As its name suggests, this lighter has an electric arc. Some models even have a double arc. A light and simple press of the single main button of the lighter is enough to start the arc between the electrodes. Easy to light, this lighter is particularly suitable for smokers with hand and/or finger disabilities.
A USB refillable lighter
---
Forget about lighter fluid refills or smelly, planet-damaging gasoline. This lighter only needs a USB cable to be recharged thanks to the built-in internal battery! Convenient, you can recharge it on your computer, internet box, car cigarette lighter or game console...1h to 2h are enough to fully recharge the lighter. Its autonomy is on average 10 to 15 ignitions.
A lighter that is easy to light and a wind resistant flame!
---
Unlike a flint lighter or a Zippo lighter, the arc lighter does not damage your fingers when you try to light your cigarette. Without flame and with a simplified ignition button, it lights even in strong wind, extreme cold, rain or snow in the same way as a storm lighter. For even more efficiency, you can even opt for a double arc lighter!
Save money with the arc lighter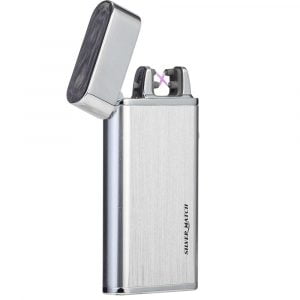 Les briquets classiques dit « briquets jetables » sont, en plus d'être peu écologiques, très peu économiques. Leur courte durée de vie vous oblige à acheter régulièrement de nouveaux briquets. Le briquet électrique possède un très bon rapport qualité/prix. Vendu en moyenne entre 24€ et 50€, il est un très bon investissement sa technologie est conçue pour garantir un briquet durable
A modern design lighter
Trendy and modern, the usb lighter has a sober and elegant design. Our online shop offers a wide range of lighter models in gift boxes. The lighter to offer par excellence!
Precautions for use
Never put your finger or hand in direct contact with the electric arc (risk of burns). Do not expose to a heat source or liquids. Keep out of the reach of children.
Which electric lighter to choose?
Discover our selection of the best electric arc lighters