Hookahcompact, fully equipped stainless steel
The Aladin MVP 360 is a small Hookah It is only 36 cm long but has all the features of a large one. This Hookahfrom ALADIN offers one of the best price/quality ratios in the compact chicha segment. This German Hookahis ideal for demanding smokers on a budget. Indeed, proposed at less than 100€, it has an impeccable quality of finish and a beautiful technical performance. Made of V2A stainless steel, the Hookah Aladin MVP 360 is a modern and robust little bomb, designed to last. Supplied fully equipped, this quality small Hookah has a thick glass vase, an outlet with connector, Hosesilicone with Mouthpiecemetal and a Bowlclay can with a small metal sieve.
Many technical advantages
The MVP 360 is a Hookahmade of premium materials, but that's not all. It also has many technical advantages.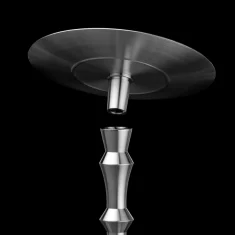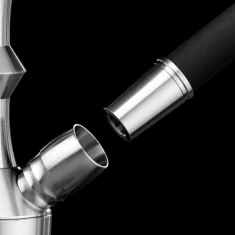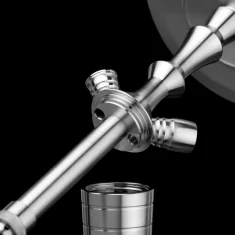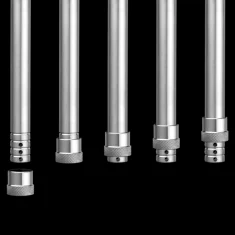 To begin with, with its large plunger and small storage chamber, this Hookah will delight session enthusiasts with big smoke clouds! Then we find a diffuser integrated into the plunger and adjustable on 3 positions to choose the intensity of the draft. It allows you to adjust the intensity of the draw from light to heavy. Custom enthusiasts will also be delighted with the 18/8 column cut allowing total customization: molasses recuperator or carbon column, the choice is yours.
Finally, its traditional clay Bowlensures a long lasting session with intense flavours coupled with a Brohood typeHeat Management Device.

In short, the Aladin MVP 360 is without doubt one of the most popular models in its category. It combines all the qualities demanded by the most demanding smokers, namely: A compact format, a complete equipment, high quality materials and an incredible performance. It is therefore only natural that Mistersmoke should rank it among the best chichas. Discover all the hookahs Aladin on our online shisha shop and take advantage of the best prices!
MVP 360 technical specifications
Height approx. 36 cm

Stainless steel and premium glass

A connector Hose

Complete set Hose silicone and Mouthpiece metal

Set Bowl clay and brohood type grid

Column cut 18/8

Plunger with adjustable diffuser