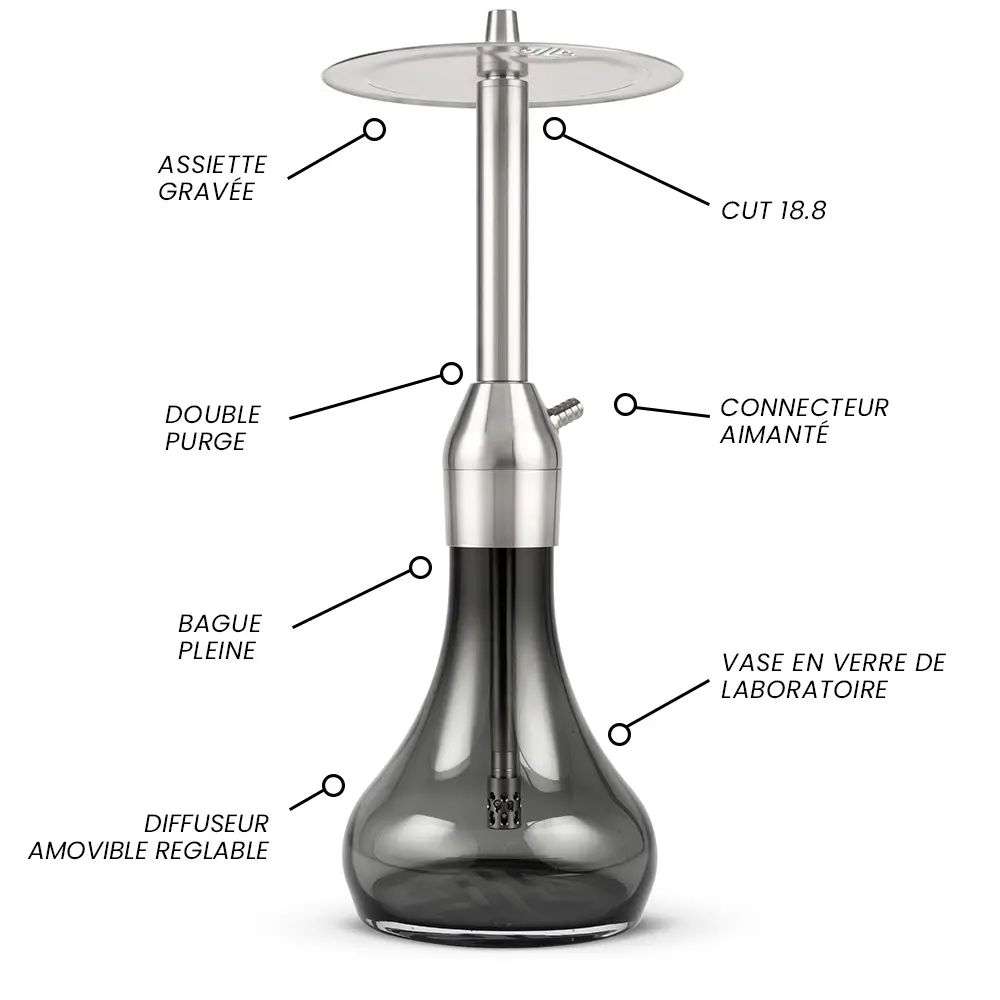 Tsar Ultimate : The Hookah living room that combines all the qualities
---
Imagine a Hookah everything you've ever dreamed of? The brand TSAR Hookah has done it.
The Hookah TSAR Ultimate Stainless embodies this new vision of hookah: A Hookah both modern and design, materials carefully selected and features adapted to all profiles of smokers.
This Hookah TSAR is the result of a long work of questioning and research to obtain THE ideal Hookah for ALL.
Perfect Hookah of lounge, the Tsar Ultimate impresses first of all by its weight: 3,600 kg. We are clearly not in the Hookah transportable that you will easily slip into your backpack ... Here we are dealing with a hookah imagined and designed to be smoked indoors, in lounge or bar at Hookah for friendly sessions with friends or even solo!
Why this high weight? Simply to guarantee perfect stability in all circumstances. Once the vase is filled with water, it is almost impossible for the Hookah to tip over. This vase designed in laboratory glass is almost 7 mm thick! Very qualitative but also decorative since the bottom has a laser engraving representing the logo TSAR. Contrary to the previous models like for example the Tsar Sambo whose vase was very flared, the TSAR Ultimate is equipped with a narrow vase very economical in water.
The little details that make the difference...
---
A quality glass vase that is particularly stable
The vase of this Hookah TSAR is surmounted by a stainless steel column with a 1/4 turn screwing system. This system is interesting because it allows to screw and unscrew very quickly and without constraints. Particularly ideal for bars at Hookah .
A full ring for total purging
To offer you optimal comfort during the session, a "full ring" device ensures maximum purging of the smoke contained in the vessel.
Modular draft from lightest to heaviest
We told you a little above, this Hookah TSAR is really designed to satisfy all profiles of hookah smokers, from the beginner to the most experienced. That's why we have equipped it with a plunger with a diffuser both adjustable on 3 positions but also removable. You can thus pass from an ultra fluid draft to a heavy draft or even traditional by removing the diffuser completely.
A 2nd generation Hose magnetized connector
Practical, the connector Hose has a magnetic fixation. But unlike other models of hookah, it is guaranteed anti-rust!
A plate with a new design
Le design de l'assiette fait peau neuve ! Exit l'assiette papillon, TSAR revient à la simplicité et l'efficacité avec une assiette plate, avec juste de ce qu'il faut de rebord pour y poser vos cubes de charbon à chicha si besoin. Bien évidemment, cette dernière possède un cut 18/8 et un joint de foyer en silicone.
The Hookah with the "Wow" effect and totally customizable purge system
---
The Tsar Ultimate offers a purge that looks great in the middle of a session. Blow into the Hose and watch the smoke come out of the column... And with the included purge attachment, you can direct the smoke not to the sides but to the bottom for an even more spectacular effect.
The technical characteristics
---
Chicha TSAR
Hauteur totale environ 50 cm
Poids : 3,600 kg
Colonne en acier inoxydable V2A à visser (3/4 de tour)
Vase en verre épais avec logo Tsar gravé au laser
Bague pleine
Plongeur avec diffuseur réglable et amovible
Connecteur tuyau 18/8 aimanté en acier inoxydable
Purge avec effets personnalisables
Assiette 18/8 avec gravure du logo Tsar Hookah
A hookah with a deliberately pure design
---
The sobriety of the Tsar Ultimate is quite deliberate. Firstly because we wanted a Hookah timeless. One of these models that crosses the years without tiring us. And then, to allow everyone to customize his hookah according to his desires.
On this Hookah, everything is thought in the smallest details to allow you to customize the vase or the column simply and quickly. Indeed, the column has a "cover", more commonly called "cover" in the world of Hookah. In the future, this cover can be changed in a few seconds and allow you to add a wood, resin or even marble effect on the column of the Hookah.
Finally, discover the whole range of accessories TSAR on our online store and create the Hookah that suits you!