TheCoal heater Hookah gas
Perfect for lighting your charcoal at Hookaheasily outdoors, theCoal heater gas is an essential for hookah smokers.
In contrast to self-igniting charcoal, natural charcoal for Hookah must be ignited with the help of a Coal heater. TheCoal heatergas works exclusively with gas and does not require a plug. Easily transportable (compact and light format), this wireless Coal heaterwill accompany you everywhere (outside, evening...) and will allow you to light your Hookahwithout difficulty.
How to light the charcoal Hookah?
This Coal heater Hookah works very simply. Open the gas valve and light the appliance with a gas lighter. The well-designed lighter has a knob for adjusting the flame intensity and its support grid directly holds the coal cubes! Your coal is ready to be installed on your Bowl when all its faces are bright red.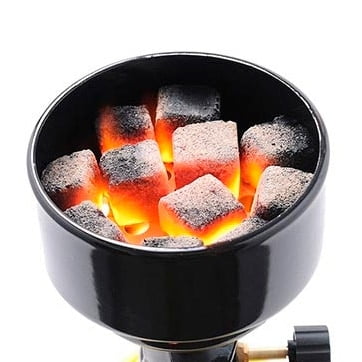 Preferably use natural charcoal for Hookah. This charcoal is made from coconut (the bark). It ensures a longer heating time (1h30) and above all does not contain any chemical additives. Natural charcoal does not give off any odours and produces little volatile ash. You will find the best natural coals on our online shop(Charcoal tom coconut, fresh coconut, king coconut...).
Place your gas cartridge under theCoal heater
Open the valve and light with a gas lighter.
Set the knob to the highest intensity
Posez vos cubes de charbon sur la grille à l'aide d'une pince à charbon
Wait a few minutes until all your cubes are perfectly red before putting them on your Bowl or Heat Management Device.
Economical and practical with its compact size (can easily fit in a bag!), theCoal heater gas heater is a robust accessory that ensures a very powerful and fast heating. Thanks to its edges, it also protects the coal from the wind during your outdoor sessions.
Please note: The color ofCoal heater is random according to the arrivals. You cannot therefore choose the colour when you add this item to the basket.
WARNING! Coal heater is sold without gas cartridge.