La chicha portable par El-Badia
La chicha El Badia P1 est sans aucun doute la chicha portable par excellence. En été (mais pas que), les fumeurs aiment pouvoir transporter leur chicha facilement et fumer n'importe où. La marque française El-Badia l'a bien compris, et a mis son savoir-faire au service de vos sessions chicha avec cette petite pépite inédite : la chicha P1.
Créée par la boutique chicha El-Badia, cette mini chicha au look original est un véritable concentré d'efficacité dans un minimum d'espace. On observe le côté pratique de cette chicha rien qu'à son design. Allongé et sobre, ce narguilé ultra original pourrait presque faire penser à un thermos au niveau de la forme. Et pourtant, on vous l'assure : il s'agit bien d'une chicha !
Savamment pensée pour être la plus simple à transporter possible, la chicha P1 El badia et ses lignes futuristes sont une véritable révolution dans le domaine.
Caractéristiques techniques de la chicha El Badia P1
Height: 24 cm approximately
A side exit Hose
Water level mark on the vessel
Hookah for aluminium sessions
Made of PVC and silicone
Patented storage system Hose
Une chicha de voyage moderne et bien pensée
---
Avec sa forme arrondie qui prend un minimum de place, à vous les sessions entre amis en extérieur. Vous pourrez même l'emmener avec vous dans vos bagages pour les vacances ! Composée de multiples matériaux parfaitement accordés les uns aux autres, ceux-ci ont été choisis avec soin pour leurs qualités et sont parfaitement adaptés.
Le vase chicha est conçu en PVC, une matière robuste qui vous assure un transport sans encombre et une résistance aux coups et aux chutes non négligeables. Les différentes parties en silicone vous permettent de pouvoir manipuler la chicha comme bon vous semble, à chaud ou à froid sans crainte de brûlure. Enfin, la céramique utilisée pour le foyer diffuse parfaitement la chaleur et la retient pour une cuisson optimale de votre tabac à chicha. L'ensemble des éléments fait de ce narguilé un modèle unique en son genre !
An all-terrain and fully equipped hookah
---
Du charbon à chicha, un peu d'aluminium spécial narguilé, et votre tabac ou goût chicha favori : voici tout ce dont vous avez besoin pour pouvoir savourer votre session chicha. Comme énoncé plus haut, la chicha El-Badia P1 vous est livrée avec un éventail d'accessoires spécialement conçus pour rendre la préparation ainsi que le transport les plus aisés possible.
Une fois le petit couvercle retiré, vous trouverez ainsi à l'intérieur de ce narguilé ultra compact un foyer chicha en céramique. De style traditionnel avec ses multiples ouvertures, il est adapté à toutes les préférences en matière de charbon. Celui-ci est amovible et peut être fixé des deux côtés, en fonction de l'utilisation de charbon naturel ou plutôt de charbon auto-allumant.
La chicha est également livrée avec un set tuyau complet, avec flexible en silicone et manche compact à l'aspect mat. Déjà doté d'un connecteur tuyau, le flexible se fixera parfaitement sur la sortie tuyau latérale. Où se cache-t-il ? Il vous faudra retirer la partie en silicone sous le foyer pour trouver la réponse. Ce système breveté de rangement rend cette chicha encore plus pratique, et nous prouve encore une fois que la chicha El-Badia P1 est une référence en matière de chicha de voyage. Enfin, un plongeur sans diffuseur est également inclus. La fixation du plongeur dans le silicone le rend simple à fixer mais aussi à retirer, pour le nettoyage de votre narguilé après la session par exemple.
This Hookah cut for adventure and outdoor is particularly suitable for your aluminum sessions in solo. A hookah like no other, imagined by the store Hookah Paris El-Badia!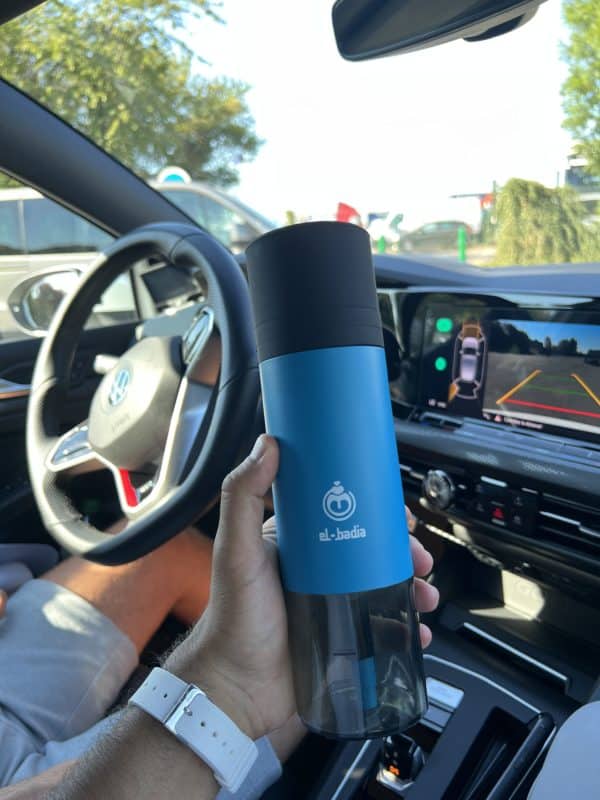 Equipment
Bowl double-sided ceramic
Hose silicone with integrated connector Hose
Aluminum not included
Mouthpiece matte appearance 20,5 cm
Plunger without diffuser
Purge on the side
Complétez l'expérience avec le système de chauffe El Badia P1 ! Spécialement conçu pour la chicha portable El-Badia P1, ce dispositif de chauffe est simple d'utilisation : Il se pose directement sur le foyer de la chicha P1 et permet de réguler la chaleur de tous type de charbon naturel coco en cube de 25 ou 26 mm.