Hookah mini Alexander Tsar Gold version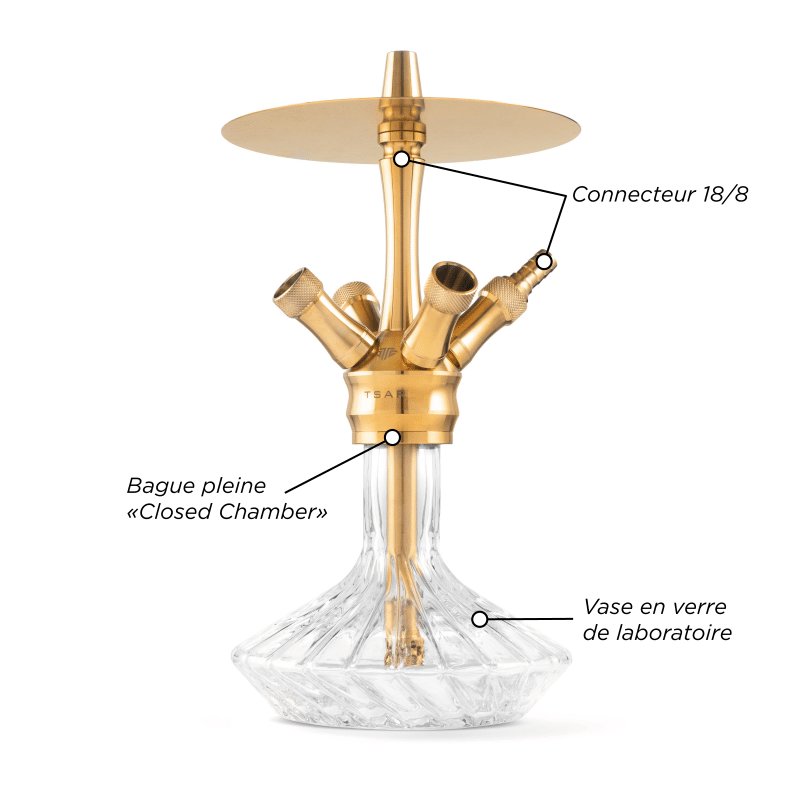 All about the Hookah Mini Alexander Gold Edition
Gold deluxe edition - The famous Hookah Tsar Alexander is offered here in a special version with column, ring and plate in a gold colour that will delight collectors. And for the perfectionists, the detail lovers, this new version is adorned with a glass vase inspired by the crystal industry. Apart from these few aesthetic changes, it has the same specific features and performance as the Hookah Tsar Alexander. All the technology and prowess TSAR condensed into a Hookah of only 33 cm in height. Easy to handle, convenient to clean and powerful, this top of the range Hookah This top-of-the-range model combines the practicality of a compact model with the quality of a luxuryHookah .
The Hookah Tsar Alexander Mini GOLD was truly imagined and designed for smokers looking for a compactHookah , high-performance and durable model. A spectacular design and a unique smoking experience, this is what best sums up this Hookah which has become emblematic in France, almost an icon.
No technical modifications, everything is kept there. Innovative technology and robust materials such as v2a stainless steel, designed to last. You will still be able to smoke the Hookah in a group thanks to the 4 connectors with 1 adapter Hose 18.8 mm included.
A column with cut 18.8 is integrated for more comfort and the possibility to customize, if you wish, with a molasses recuperator for example. The plunger, which is the right size for this new format, retains its removable diffuser to not only reduce vibration noise but also offer greater fluidity in the draw.
For the die-hard fans of the model and for all lovers of customisation, many accessories TSAR are available at the best price on our Mistersmoke online shop.
The Tsar Alexander Mini is delivered without Bowl and Hose.

Maintenance Tips
Do not use corrosive products on stainless steel parts. Clean these parts with lukewarm water only. If you use a Schmand Weg, use it for the vase only.
We do not recommend cleaning in a dishwasher.
Technical information
33 cm high

V2A steel column

4 connectors 18.8 with 1 adapter included

Stainless steel plate

Cut 18.8 at column level

Plunger with removable diffuser

Large and stable glass vase
Personalise your Hookah TSAR
Personnalise ta chicha Tsar Alexander Mini Gold grâce à notre pack d'accessoires custom.
Discover