a Hookah DESIGN in
stainless steel
The Hookah Skull Ovni Full is the brand's most fashionable and coveted hookah. Hookah Skull Strikes hard with the Hookah UFO Silver with its completely avant-garde look. The combination of stainless steel and glass as well as its futuristic lines make this 70 cm long Hookah a real UFO!
The particularity of the Skull Ovni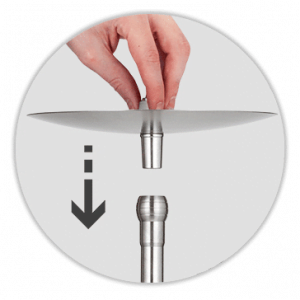 1 adapter 18/8
A 18/8 adapter included allows you to integrate a molasses collector.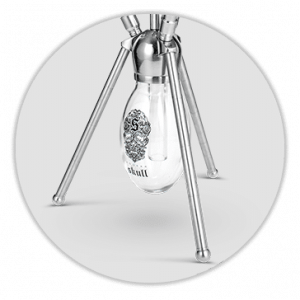 3 feet
Genuine tripod made of 3 screwable and adjustable feet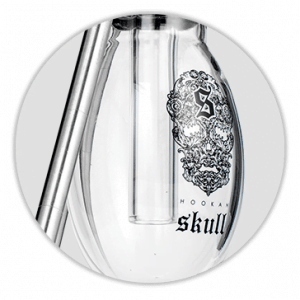 Plunger and removable diffuser
A stainless steel plunger with a removable diffuser for a more modern look and a high performance draught.
Its equipment
A fully equipped Hookah .
Mounted like a real tripod, the particularity of this Hookah is that it is entirely modular. Its legs and column are completely unscrewable and removable, so you can reduce or increase the height of the Hookah according to your desires! Another practical side, the vase is small, no more need to pour several liters of water, a small quantity will be enough to fill the vase. Finally, 3 steel connectors will allow you to smoke together and to spend very good sessions Hookah between friends.
Its price
Compared to the other hookahs stainless steel.
After the huge success of the Skull Ovni, the brand is now recognized in the segment of Hookah for quality at affordable prices. Most stainless steel chichas are sold at a fairly high price. The brand's bias is to offer high performance and design models at low prices. The proof: the Skull Ovni now offers you its new version with "ready to use" equipment!
Its use
A Hookah design and easy to smoke!
The Skull Ovni will seduce you with its futuristic design, stability and performance. The print run is optimal and theuse in solo or with friends of the Hookah is very pleasant. In addition, the Skull Ovni is fully customizable, the column height is adjustable and can accommodate a molasses collector or even a different column using a 18/8 column adapter.
the skull UFO video
Find the video presentation of the Hookah Skull Ovni (first version) in the premises of Mistersmoke.com. Unpacking of the box with presentation of the different elements that make up this hookah, assembly of the Hookah and demonstration of the many possible configurations.
Discover also in this video the preparation of the Skull Ovni: lighting the natural coals with a Coal heaterand filling the vase with Tsar and filling the Bowl with the Adalya Lov 66 tobacco on a Kaloud Lotus
A customizable Hookah
Want to customize your Hookah? We offer you a whole range of spare parts that will allow you to replace the worn parts of the Skull Ovni but also to replace the column or to add a molasses recuperator. All these parts are compatible with your Hookah Skull OVNI.
And to go further in originality, discover the unique style of the Hookah Skull Ovni Camo, entirely covered with a camouflage design.