Sensky, ce nom ne vous dit rien ? Vous êtes alors passé à côté d'une marque de feuille à rouler exceptionnelle ! Testez la qualité irréprochable de cette feuille slim petit prix et laissez vos avis et commentaires dans cet article.
Quality rolling sheets for small budgets
Ce papier extra fin de 110 mm de long vous offre de quoi rouler facilement sans vous prendre la tête. Il est robuste, le collage accroche bien, il est fabriqué avec une gomme arabique totalement naturelle et une feuille signal vous avertira lorsqu'il ne vous restera plus que 5 feuilles à rouler dans votre paquet, fini les ruptures de stock ! Vous ne pourrez pas dire que Sensky ne vous a pas prévenu ! Cette marque de feuille à rouler n'a vraiment rien à envier aux grandes marques internationales.
Change the brand you roll just once... Test Sensky!
In addition to being a premium cigarette paper, its design gives it a more youthful and stylish look. The box and the packets that make it up have a logo and graphics printed on glossy, varnished paper. Please note that by buying Sensky, you are contributing to the improvement of the environment because the paper comes from sustainably managed forests.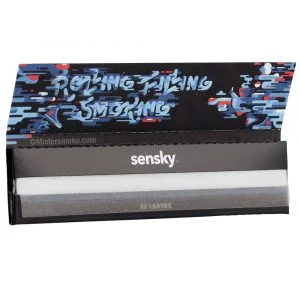 Our offers to spend less!
The Bookletof 32 extra long slim size Sensky rolling papers is sold individually at 0.80€. This is a very attractive price compared to the prices offered by tobacco shops. But that's not all! To help you save even more money, we offer you several packs that will allow you to pay really cheap! Take a look:
The set of 5 books of slim sheets: 3.75€ or 0.75€ each.
The set of 10 books of slim sheets: 6.5€ or 0.65€ each.
The batch of 50 slim sheet books: 18.90€ or 0.38€each.
And it's not over yet, visit our offer of 3 boxes of 50 notebooks which will make you benefit from a Booklet at 0.39€ !!! Sensky, the cheapest rolling sheet on the market in all formats, even king size!
4 good reasons to buy Sensky rolling papers
For its quality
For its outstanding design
For its really cheap price and even the cheapest of all.
For its commitment to producing a paper that protects nature.
Find it here Sensky Slim rolling sheet in a box of 50 notebooks ! A practical large format for regular cigarette breakers.
The Sensky range
---