The five best precision scales by category
Used in industry as well as in the laboratory or in the kitchen, the precision balance is a weighing tool designed to obtain the weight of a mass with a very high degree of accuracy. Their accuracy varies from 0.1g to 0.001g and some models have a "piece counting" function. Equipped with a digital display, the precision electronic scale displays the weight in just a few seconds.
How to choose a precision scale?
Here we offer a selection of the best precision scales by category. Choosing a precision scale can be complicated when you see the multitude of models on the market. Each scale model has its own technical characteristics. From precision chemistry scales to kitchen scales, Mistersmoke guides you in your purchase and reveals the most accurate and reliable models, always at the best price.
When should I use a precision scale?
Comme son nom l'indique, la balance de précision pèse de petites quantités ou de tout petits objets de manière très précise. Son niveau d'exactitude varie selon les modèles : de 0.1 g à 0.001 g pour les plus pointues. Utilisées dans de nombreux secteurs d'activité (laboratoire, industrie…) ou même à des fins personnelles, la balance électronique de précision assure une pesée précise et fiable dans de nombreux cas. Pour peser épices, or, bijoux, produits cosmétiques ou encore votre quantité de CBD avant de rouler, elle se révèle indispensable.
The best precision scales:
TASMAN Precision Balance - 100g x 0.01g
KARA precision balance - 20g x 0.001g
JAVA Precision Balance - 100g x 0.01g
ProFreight professional scale 150 kg
BAFFIN Kitchen Scale - 500g x 0.01g
1 - The laboratory balance
Precision to the gram for your chemistry weighing
---
The TASMAN electronic balance from LogicScale is the ideal balance for all your laboratory weighing needs. Capable of measuring quantities in grams, ounces, grains and many more, this balance has many assets. Highly efficient and reliable, it is accurate to 0.01 grams and can measure many items, even the smallest. It is easy to carry and practical with its included weighing tray, and also has a small footprint. The practical digital display is retractable, ensuring that the stainless steel tray is kept clean. Delivered with batteries and in an elegant leatherette pouch, this precision chemistry scale is offered at a mini price.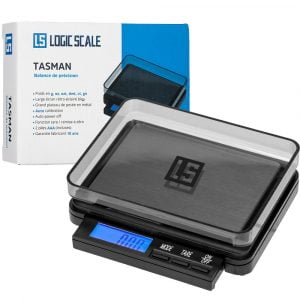 2 - The milligram scale
Accuracy to 0.001 g
---
The champion for weighing minute quantities of products! For weighing spices, powders or even gold, the 0.001g precision scale is a must. This type of scale is very sophisticated and has a protective cover that also serves to protect against possible draughts and thus weighing errors. Supplied with a practical anti-magnetic metal clamp to catch substances accurately, the KARA scale can hold up to 20g of material. The scale is supplied with batteries and also has two weights to calibrate the scale if required. Its small size makes it easy to carry around with you!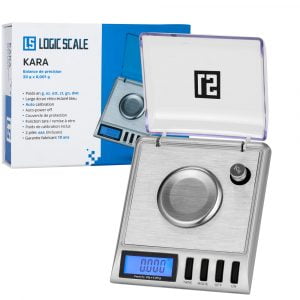 3 - The pocket scale
Portable weighing in mini format
---
Get a fast and ultra accurate result with the JAVA100 pocket scale! Guaranteed for 10 years, this mini electronic scale displays your weight in seconds on its backlit LCD screen. In ounces, grains, carats or grams, this pocket scale displays a maximum quantity of 100 g for an accuracy of 0.01 g. Easy to use, it slips easily into your pocket with its compact size of only 8 cm by 5 cm!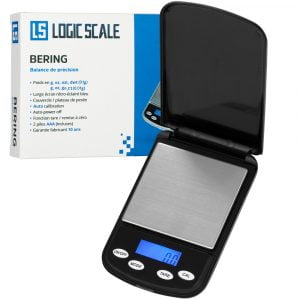 4 - The professional scale
The essential for weighing parcels
---
Also known as industrial scales, this type of scale is perfectly suited to professional use. With its large stainless steel platform and its maximum capacity of 150 kg, it can be used in many sectors: In the trade to weigh parcels before they are shipped, in the food industry to weigh large quantities of water or foodstuffs such as flour for example... Entirely made of stainless steel, this scale can withstand use in a humid environment. With an accuracy of 100g, this platform scale is particularly precise and accurate. Thanks to its great solidity, it meets the needs of all industrialists. It has a practical LCD screen that can be moved thanks to its 1.8m long cable. It works both with batteries (included) and with an AC adapter (also included). The HOLD function keeps the weight displayed after removing the object. In short, a professional scale offering unbeatable value for money!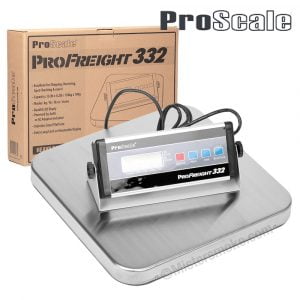 5 - The precision kitchen scale
Become the best pastry chef, weigh with precision!
Want to bake like a chef? Opt for the precision kitchen scale! As mentioned, this model of scale is specially designed for cooking. Unlike a mechanical scale, this electronic scale accurately weighs all ingredients, even very small quantities, thanks to its precision of 0.01 g. Equipped with a plastic bowl that is easy to clean for impeccable hygiene, the BAFFIN kitchen scale can hold up to 500 g of product. Ingenious, this counting scale can count and add several quantities. TARE function and automatic calibration. Protective cover included.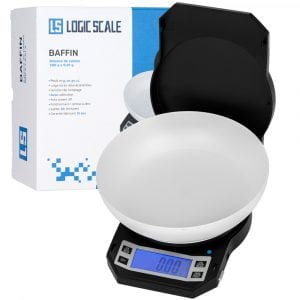 Calibrating my Logic Scale: The steps
---
Calibrating your precision scale is quite simple. You just need to follow the steps and have the right equipment, namely a calibration weight. How do I know if I need to calibrate my electronic scale? The scale displays an "OUT" error message? Is the weight displayed inconsistent? Then it's time to calibrate.
Place your Logic Scale on a flat, stable surface.
Turn on your scale
Simultaneously press the MODE and CAL buttons until the numbers appear, then release
Place the calibration weight corresponding to the maximum weight of your scale
Wait a few seconds and then press the TARE function
Press the ON/OFF button again to turn off the scale
Your scale is calibrated and ready to use. Caution! Do not overload the scale beyond its maximum capacity to avoid damage. The process of calibrating the scale may vary slightly depending on the model. Please refer to the instructions enclosed with your precision scale.