Shika Hookah
The reference brand in the field of traditional Hookah
A true object of conviviality, the Hookah has become extremely popular all over the world thanks to the boom in tourism, especially in the Middle East and the birth of bars at Hookah in major cities. Probably born in East Africa in 1300 AD, the Hookah (from the Persian word "chiche" meaning "glass" in Persian) spread very quickly to the Middle East: Lebanon, Turkey and Egypt. Seeing the worldwide craze for hookahs, the Shika Hookah brand decided to create authentic models with impeccable finishes.
Shika, the passion of the hookah
Forget about modern chichas and stainless steel, here we will present you the authenticHookah , designed in the purest tradition of the Egyptian hookah.
Shika Hookah is a brand founded by passionate smokers. Its mission? To provide smokers with a unique and unforgettable experience in all aspects. To maintain and develop the hookah culture by providing high quality, ethically handmade hookahs . To do this, they do not hesitate to learn about the different ways of smoking in every country in the world and to immerse themselves in the different cultures to create the perfect balance between design, character, quality and durability.
The particularity of SHIKA HOOKAH? All their hookahs are entirely hand-made in Egypt. The brand selects the best craftsmen from El-Gamlyah and Cairo as well as masters in the design of the hookah based in Syria.
Marque de confiance désormais reconnue dans le monde entier, SHIKA est synonyme de qualité et de fiabilité. La marque met un point d'honneur à n'utiliser que des matériaux de premier choix comme le cuivre et le laiton massif ou encore l'or pour certains ornements. Chaque modèle de chicha Shika Hookah subit un contrôle qualité strict pendant tout le processus de fabrication. Fabriquées à la main de A à Z, du martelage de l'assiette, au gravures sur la colonne en passant par les dorures du vases, c'est au total plus de 3 semaines de travail qui sont nécessaires à l'aboutissement d'un narguilé SHIKA HOOKAH.
A decorative, aesthetic and terribly effective Hookah
---
Particulièrement esthétiques avec leurs motifs, dorures et gravures, les chichas Shika sont de véritables chichas de salon, la chicha que tous les fumeurs doivent posséder parmi leur collection. Véritables chichas de luxe pour certains modèles comme la Shika Hookah Lannister (un chef d'oeuvre 100% en laiton massif), les Shika Hookah sont reconnaissables entre toutes avec leur tirage puissant et leur bruit caractéristique.
"Cigarettes are for nervous people, competitive people, people who are always on the run. When you smoke a hookah, you have time to think. It teaches us patience and tolerance, and allows us to enjoy good company. Hookah smokers have a much healthier approach to life than cigarette smokers."
-Ismet Ertep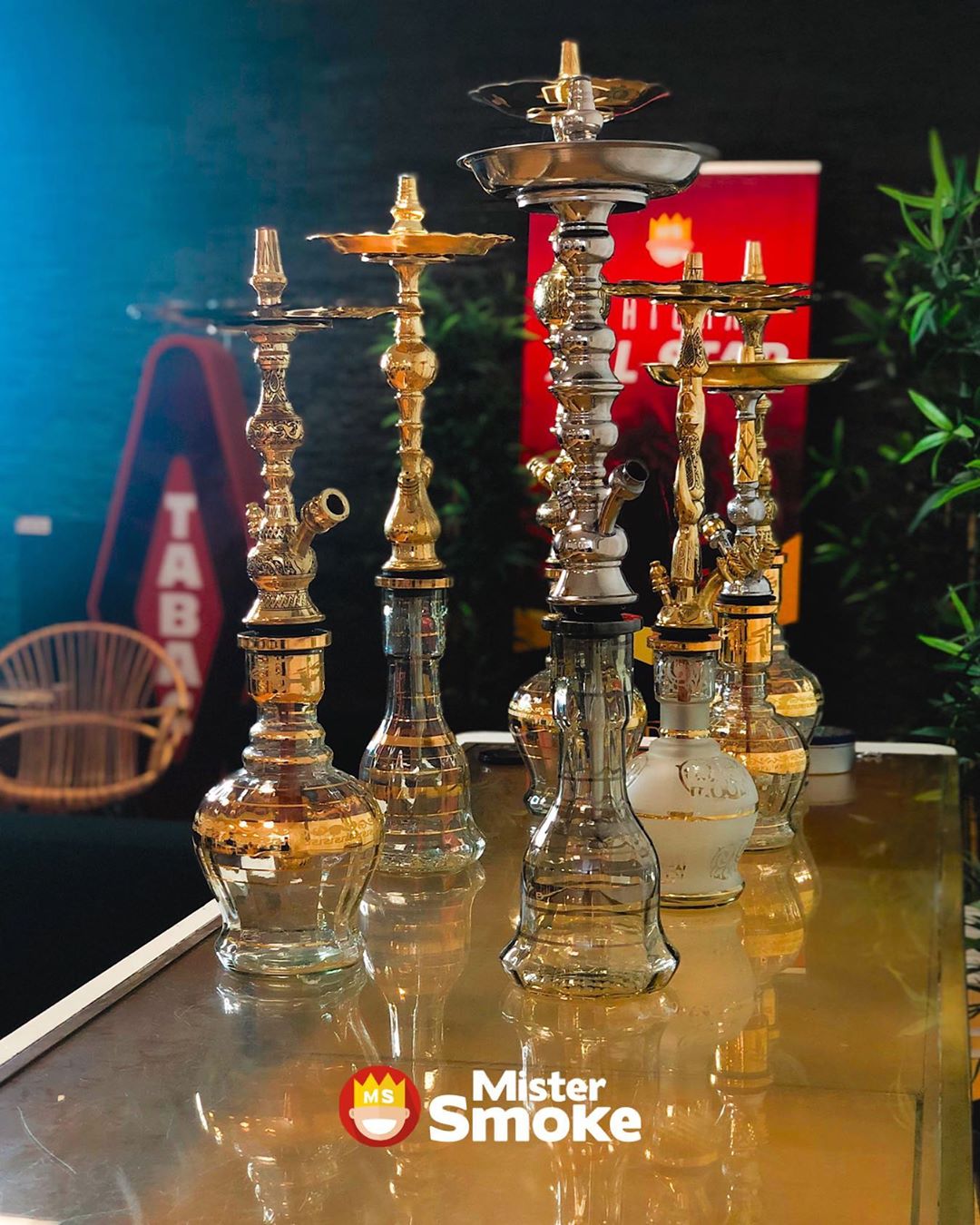 High quality hookahs , delivered complete
Chaque chicha SHIKA est livrée complète, prête à l'emploi. Elles se composent d'un tuyau traditionnel dit "tuyau égyptien" ainsi qu'un foyer en céramique. Proposées à des prix intéressants compte-tenue de la qualité des matériaux utilisés et des équipements, les Shika Hookah démarrent à 79€ seulement pour les modèles en aluminium.
La marque propose également des accessoires comme des foyers ou encore des tuyaux afin de personnaliser sa chicha. Chaque vase est fixé à l'aide d'un joint d'étanchéité. Il est donc tout à fait possible de le changer très simplement par un autre vase de chicha vendu sur Mistersmoke.com.
find out more
Discover or re-discover the live presentation of hookahs Shika...