Which Hookah Accessories to choose?
Il existe de nombreux accessoires pour chicha. Nous vous avons préparé une liste non exhaustive des accessoires  que nous avons classée en 2 catégories : les accessoires pour faciliter la préparation de la chicha et les accessoires pour améliorer la qualité de la chicha. Découvrez-les vite !
Accessories to simplify the preparation of a Hookah
---
These seemingly simple Hookah Accessories can change your life. Preparing for Hookah will never be the same with these practical accessories. Saving time, safety or comfort... Sometimes, you just need to add a few accessories to give another dimension to your session Hookah. Here is a small selection:
Réussissez vos sessions chicha sans passer des heures à préparer votre foyer ! Découvrez les 2 types de système de chauffe pour chicha vendus sur le marché :
The Heat Management Devicetype Kaloud Lotus
Le système de chauffe type "Kaloud Lotus" permet de réguler la chaleur des charbons naturels et de prolonger la durée de votre session chicha. Fabriqué avec des matériaux de qualité, ce système de chauffe permet de procurer au tabac la chaleur nécessaire pour une combustion parfaite et une diffusion des arômes et saveurs optimale. Placé juste au dessus du foyer, le système de chauffe permet de dégager de la fumée lisse, propre et goûteuse. Pour une utilisation optimale, utilisez un foyer dont la forme et les dimensions sont compatibles avec le système de chauffe comme le foyer Cascada par exemple.
Whether you smoke tobacco, gel or smoking stones, this product will meet your expectations!
How does it work?
Light the coals by hand with a lighter or with a Coal heater gas or electric lighter. If the charcoal is too big to fit in the Heat Management Device, use pliers to break the charcoal into small pieces.

Fill out the Bowl form at ¾ . It is advisable to leave 5 mm between the tobacco and the top of Bowl to avoid burning the tobacco or other.

Place the natural charcoal inside Heat Management Device and close the lid. Wait 5 minutes for the heat to be well distributed.

Do not hesitate to turn the handle of Heat Management Device from time to time to regulate the heat and find the ideal temperature.
The Brohood Heat Management Device
The Heat Management Device type Brohood also allows to regulate the heat of the natural coals for a large volume of smoke. Different from the Heat Management Device Kaloud, this one is equipped with a chimney and a sieve. The chimney will be used to evacuate the overflow of heat and the metal sieve will leave a sufficient distance between the coal and the tobacco for an optimum passage of air.
Resistant and durable, this Heat Management Device will make your Hookah sessions qualitative. Molasses will give off an intense flavour, the tobacco will not burn and your throat will no longer sting!
How does it work?
Light the coals by hand with a lighter or with a Coal heater gas or electric lighter. If the charcoal is too big to fit in the Heat Management Device, use pliers to break the charcoal into small pieces.
Fill out the Bowl form at ¾ . It is advisable to leave 5 mm between the tobacco and the top of the Bowl to avoid burning the tobacco or other materials.

Place the natural coal on the sieve and against the chimney. Wait 5 minutes for the heat to be well distributed.

As soon as the smoke is dense, remember to keep the coals away from the chimney.
The most tedious part of preparing a session Hookahis lighting the charcoal. To make this step more pleasant and above all faster, there are solutions such as thecharcoal lighter. This device allows you to heat up the natural coals in a very short time.
Électrique ou au gaz, l'allume charbon est très pratique. Alors qu'allumer un charbon naturel à la gazinière vous prend entre 20 et 25 minutes, l'allume charbon mettra seulement 5 à 10 minutes pour chauffer le charbon. Juste le temps de remplir le vase, le foyer et apposer la feuille en aluminium.
This Heat Management Device can be used outdoors, is very functional and is easily transportable.
No more endless ignition drudgery, go toCoal heater !
Qui ne s'est jamais brûlé en voulant placer le charbon sur le haut de la chicha ? Cela arrive très souvent. C'est pourquoi, nous vous recommandons la pince à charbon !
Made of stainless steel, the clamp is used to easily handle coal for Hookah. The pliers make it child's play to move the coal, cut it or break it into small pieces. It keeps a safe distance between the user's hand and theCoal heater but also keeps the heat from the glowing coal away.
Functional and robust, it comes in several formats: small or large, thin or thick, standard, saber or hammer-shaped, with or without teeth, it will suit everyone.
Caution, the use of the pliers requires a certain dexterity, it is advisable to practice beforehand with an unlit charcoal so as not to end up burnt!
The perforator saves time when preparing your Hookah. It perforates the aluminium foil evenly. In one easy step, the perforator punches the foil with its metal spikes.
Accessories to improve the quality of the Hookah
---
Beyond the Hookahitself and the choice of tobacco, accessories can considerably improve the quality of your session Hookah. For perfect hygiene, to ensure your health, for a more pleasant, quiet session or to ensure that your Hookah is perfectly sealed, there is an ideal accessory!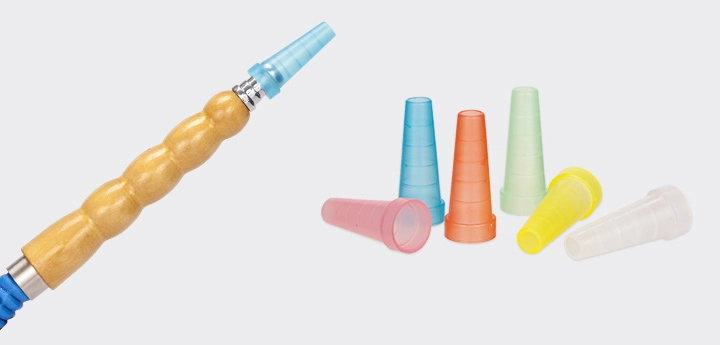 Hygienic mouthpiece Hookah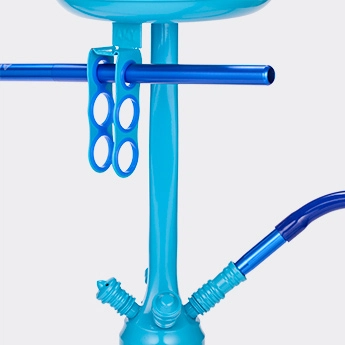 Support Hose Hookah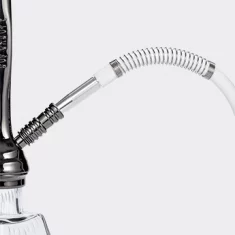 Bending spring Hookah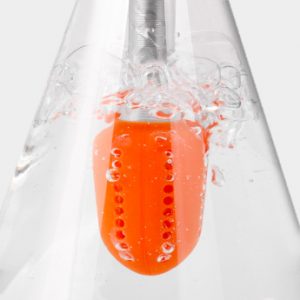 Fed up with the noise of the swirling of the Hookah, use the diffuser !
Le diffuseur, aussi appelé plongeur, est un embout qui s'adapte au bout de la tige inférieure qui trempe dans l'eau de la chicha. Confortable, le diffuseur sert de silencieux, il permet de réduire considérablement le bruit des bulles lors de l'aspiration. Le tirage devient plus léger et plus facile. Astucieux et hygiénique, il améliore la filtration de la fumée et est lavable. Petit ou grand, en forme de tige ou de balle, en silicone ou en acier inoxydable, le diffuseur s'adapte à tous les types de narguilé.
Smoking on Hookah is not always harmful!
The stone at Hookah, also called steam stone, is a stone of mineral origin soaked in glycerol and perfumes to generate steam. It contains no tobacco, nicotine or tar! This porous stone optimally absorbs a flavored liquid to diffuse an intense and tasty fragrance.
The principle is as follows: the heated stone slowly releases its liquid in the form of vapour. The steam emitted gives off an intense taste and forms a thick white smoke.
The preparation is the same as with tobacco. Quick and easy, just place the stones in your Bowl, cover the Bowl with aluminium foil and place your charcoal. Do not hesitate to stir the stones regularly to even out the diffusion of flavours.
In addition to adapting to all types of Hookah, the stones are reusable. All you have to do is soak the stones again in the flavored liquid, previously rinsed (tip: 3 uses maximum per stone).
Hurry up, test the stones at Hookah ! The 2 best known brands on the market are Shiazo and Bigg.
Le tuyau en silicone pour chicha est souple, maniable et facile à installer. Il vous suffit de fixer le tuyau sur le connecteur placé au dessus du vase de la chicha.
The silicone Hose has two special features. Aesthetic, thanks to the many colours available on the market, the Hose fits all the styles of Hookah. Hygienic, the Hose is washable. Forget about mint residues and other stubborn perfumes in the Hose of your Hookah. Simply use lukewarm water at the end of the session. The complete maintenance of the hookah will take very little time and will avoid parasitic tastes.
L'embout hygiénique est devenu l'accessoire incontournable pour réussir vos soirées chicha entre amis.
The nozzle is placed at the top end of Hose. Made of plastic or silicone-coated glass, the mouthpiece for Hookah fits the majority of Hoses for hookahs. Practical when several people use the same Hookah, the mouthpieces guarantee optimal hygiene for the users. Cylindrical or flattened shape and several colours, the mouthpiece provides remarkable smoking comfort.
Le connecteur ou support tuyau est une pièce qui permet de relier le tuyau à la chicha. Cet embout de fixation permet une étanchéité parfaite. Différents modèles sont disponibles sur le marché : en acier, en silicone ou en verre, petit ou grand, jetable ou réutilisable, le connecteur conviendra à tous les fumeurs.
It is not curved, so that Hosewill not bend or dismantle. In large format, it is suitable for hookahs with a glass Mouthpiecesuch as the famous MouthpiecesDevil Smoke or luxury chichas.
Attention, it is essential to choose the right connector size. There is no standard size!
This little item will simplify the life of any shrimper. The bend for Hose Hookah prevents your silicone hose from twisting in all directions. This makes it easier to handle the Hose. No more bent silicone at the Hoseconnector and no more Hoseshooks that prevent you from pulling on the Hookah.
OUR ACCESSORIES TO CUSTOMIZE YOUR HOOKAH
Our other tips on Hookah
Our best sellers ofHookah Accessories
Back to file Hookah